Hey everyone! If you're like me, you procrastinate a lot and pretend that you are spending your life doing something more meaningful than binge-watching. If you are the more productive type who can get all their work done and then relax; I envy you. Usually from Monday-Thursday, I don't watch television due to the fact that I have sports, singers, and homework. On Friday through Sunday, you can find me watching Netflix (I got an account for Christmas!). Since Spring Break is coming up, many people will go on vacation, but there will be the few who don't leave their house for days (usually me) and this post is for you all.
*Note: This post is mostly me fangirling (being overly excited) about these shows*
Here is what I've been watching recently:
Shows
Sherlock
I've been absolutely obsessed with
Sherlock
. This show is a modern day version of Sir Author Conan Doyle's Sherlock Holmes Stories. I've been watching the first three seasons (I currently have two episodes left) on Netflix. So far, there are only nine episodes of the show, which are all around 86 minutes. Originally, I heard about this show from my friend who was talking about how good it was. Then, I was on Tumblr and kept seeing gifs and pictures from the show, and I was very interested. Lastly, if you don't know, Doctor Who (another show I've been watching) had been taking off American Netflix, therefore I needed to fill the void in my heart and
Sherlock
was the show I began to watch. My mother and I have been watching it, and got we got instantly hooked. How could you not love a show with Benedict Cumberbatch and Martin Freeman in it?
Doctor Who
Okay, I know I jumped into the
Doctor Who
fandom a bit late. I blame Tumblr, once again for my obsession with this show. Since I am very bad at explaining what this show is about, I'll let Wikipedia do it for me:
"Doctor Who" is a classic science-fiction series with a cult following. The Doctor is called a "Time Lord," a time-traveling scientist from a far off planet, who travels through time and space in a shop known by the acronym TARDIS. A TARDIS is a machine that is larger on the inside than the outside
and is supposed to change its appearance based on its surroundings. The Doctor is also able to evolve his biology, so he appears as many different people throughout the series. The Doctor loves Earth, so he makes many trips here to save the planet, or to enlist earthlings to help him with tasks in the galaxy.
Back in 2014 (oh so long ago!), I watched a few episodes of Doctor Who with my friends (Angels Take Manhattan), and I really liked it but at the time I didn't have anywhere to watch the show. Over Christmas Break and January I binge-watched quite a few episodes, but now I am back to square one where I can't watch it live because I am not caught up. For all you Doctor Who fans, who is your favorite doctor? I really like David Tennant and Matt Smith. I've never really been into Sci-Fi, but I have to admit the show is addictive and the fan base is a very fun thing to be part of.
Fuller House
I am having mixed feelings about Fuller House, just because it seems very similar to a Disney Channel show with the way the script is written. I am a huge fan of Full House which is a sitcom that appeared in America from 1987-1995. I used to watch it all the time when I was younger (re-runs obviously), and I was so excited for the spin-off. There are very funny moments in the show, but it doesn't feel exactly the same. I am currently half way through the show, but if they have a second season I probably will watch it.

*I've also watched quite a bit of The Office (US Version) and The Unbreakable Kimmy Schmidt but I plan on watching them more. I watch those shows when I am exercising, or when I am upset and need something to laugh about*
Movies
The Theory of Everything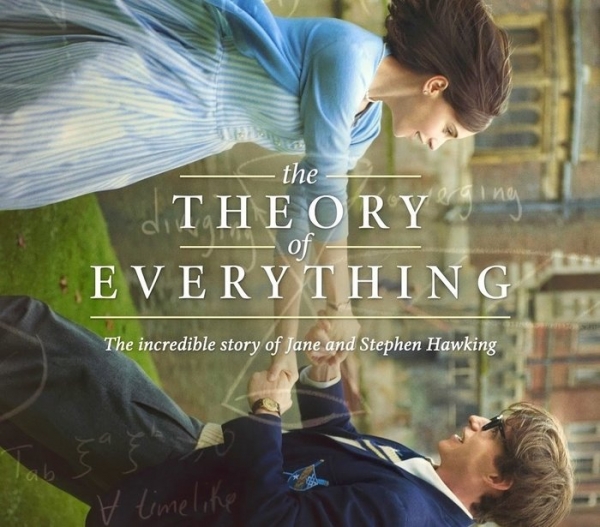 I recently watched The Theory of Everything, and it is now in my top movies I have ever seen. I originally heard of it because it won some awards (I believe an Oscar in 2014), but after I saw the trailer I knew I had to watch. Here is a synopsis from Wikipedia:
In the 1960s, Cambridge University student and future physicist Stephen Hawking (Eddie Redmayne) falls in love with fellow collegian Jane Wilde (Felicity Jones). At 21, Hawking learns that he has motor neuron disease. Despite this -- and with Jane at his side -- he begins an ambitious study of time,
of which he has very little left, according to his doctor. He and Jane defy terrible odds and break new ground in the fields of medicine and science, achieving more than either could hope to imagine.
Besides the love story in the movie, I really liked the physics involved in it. I am one of those people who like science and find it fascinating, but when it comes to retaining the information I struggle a bit. I have also bought Stephen Hawking's book A Brief History of Time, and I am planning on reading it over Spring Break (if it ever arrives). I loved the editing of this movie (the ending is amazing), the acting, and just the whole entire movie.
Harry Potter Movies 1-3
Currently, I am re-reading all the Harry Potter books, and re-watching the movies. I am going to do three posts (coming up within this month and April) about what it's like to re-read the books and revisit the world of Harry Potter. I am so obsessed with the series, it's kind of ridiculous. I even took a test to see what Hogwarts House I would be in (Slytherin!).
I hope you enjoyed this post! Sometimes, I just need to express my love for some television shows and movies.
There should be a lot more posts coming this month, because a lot is happening!
What shows are you watching or recommend?
xx
Christina Madeleine